Hi,
I've been testing my LimeSDR mini these last days and I have detected some problems. Probably the biggest one is that I can not obtain any signal from the TX port. I've used other SDR devices (other brands) without problems and I can measure those signal using an oscilloscope (other brand devices). But for the LimeSDR mini I can't detect any signal. Even when I use the same examples that I use with the other devices (of course changing the device option). I have tried to change all the available parameters without success. For that reason I think that there's a problem with my LimeSDR mini.
I have follow these steps to install the software:
LimeSuite: https://wiki.myriadrf.org/Installing_Lime_Suite_on_Linux
Gr-limesdr Plugin for GNURadio: https://wiki.myriadrf.org/Gr-limesdr_Plugin_for_GNURadio
I updated the Firmware without problem using:
$ LimeUtil --update
The LimeQuickTest gave me this output (Apparently without problems):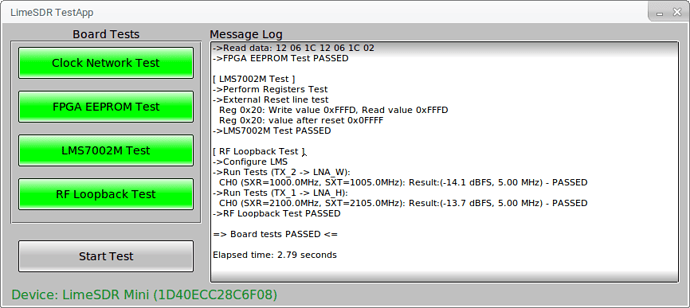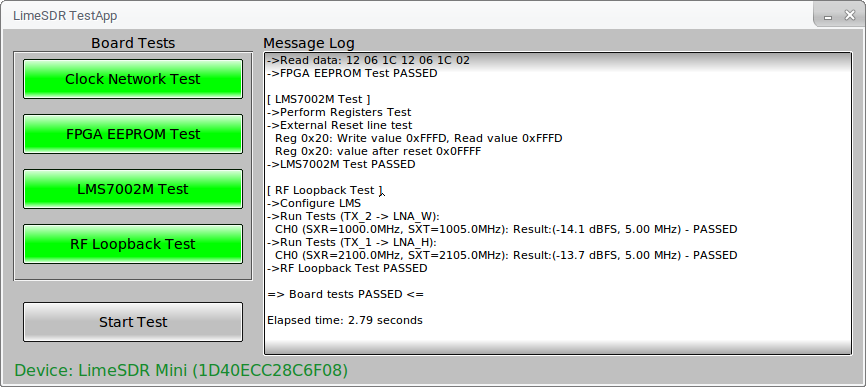 This is the example I use to generate a signal (Runs OK, but I don't obtain any signal when I use my LimeSDR mini):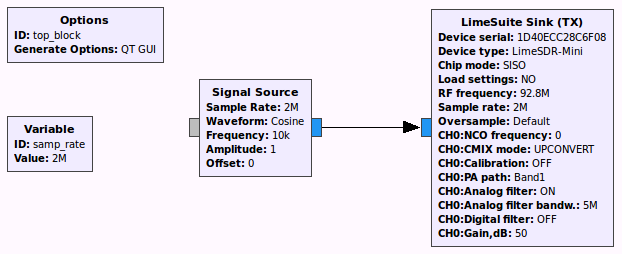 I've tried changing the parameters available in the "LimeSuitSink (TX)" (previous picture) without success. Please, give me some feedback (steps to follow) in order to solve that problem. I'd appreciate it.
Best regards,