Hello everyone,
I bought an limesdr mini. LimeQuickTest gave me the classic loopback error in an intermittent way. It would sometimes fails when cold ~30°C , but always when hot.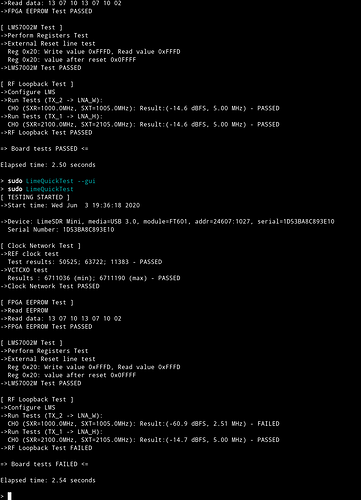 I have a month to return it. During that time, I tried to investigate what might me happening.
Using the gui, I turned on only TX, and checked what it outputtted an clean signal - it was OK.
However, RX VCO have a weird behavior: Even if sucessfully tuned, it was not in fact stable it seems.
By cranking the VCO (0x0120[7:0] ICT_VCO) bias current from 128 to 200 the VCO responded adequately, and I could receive signals without 'holes' while sweeping.
I also noticed that increasing PW_DIV2_LOCK also helps a bit.
I reflected that change in the library, and test is now always passing, event when hot.
My Question: Is there any drawbacks in increasing ICT_VCO ?