I have a LimeSDR Mini on Linux Mint 18.2 (64-bit), I've made a bit of success getting some things to work but GQRX seems to escape me.
Here is the error I'm getting when I attempt to start the stream:
terminate called after throwing an instance of 'std::runtime_error'
what(): In hierarchical block source_impl, output 1 is not connected internally
I've tried to follow thru the guides, I figured out that I seemed to have to add a few software channels, remove SoapySDR 0.6 and install 0.7 (with the modules including lime) now I can get my SDR to be detected in Soapy Utilities
$ SoapySDRUtil --find
######################################################
Soapy SDR – the SDR abstraction library
######################################################
linux; GNU C++ version 5.4.0 20160609; Boost_105800; UHD_003.010.003.000-0-unknown
Found device 0
addr = 24607:1027
driver = lime
label = LimeSDR Mini [USB 3.0] 1D4C4365552ABC
media = USB 3.0
module = FT601
name = LimeSDR Mini
serial = 1D4C4365552ABC
Found device 1
device = plutosdr
driver = plutosdr
uri = local:
I've also successfully compiled the rtl_433 project which seems to use Soapy for LimeSDR and it's able to receive sensors and things nearby.
I've attempted to remove and reinstall all the SDR bits and pieces (including for my RTL-SDRs which I broke in the process of getting LimeSDR to do anything) and I can't seem to get past the errors on GQRX.
I've attached some screenshots of the settings I have picked for GQRX, at one point I got as far as FFT no audio errors but it didn't list an antenna to pick in the dropdown some forums suggested. I'm unsure if I have taken a step forward or backward at this point.
At one point I even managed to build GQRX from source in hopes it would find some LimeSDR driver/plugin that was installed thru LimeSuite, SoapySDR, GNU Radio, or some other thing I've tried but I was still unsuccessful.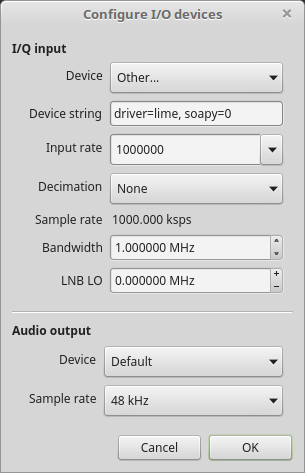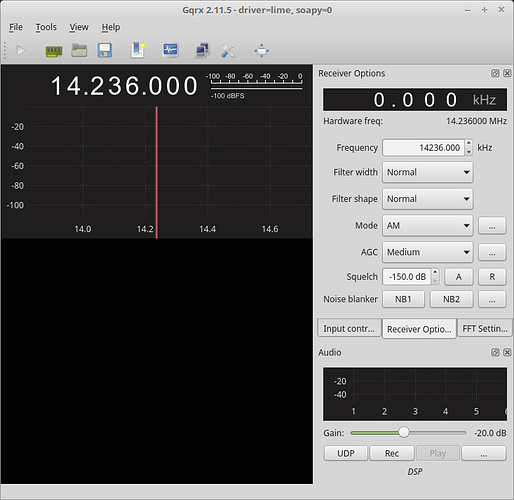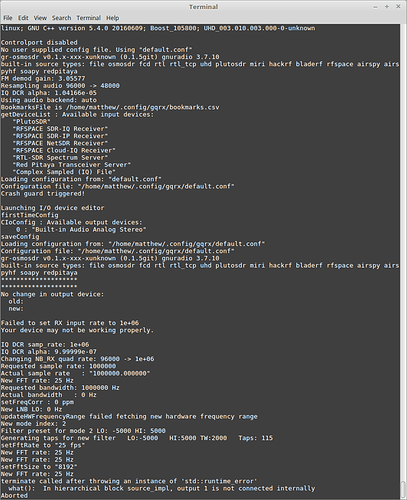 Anyone have ideas?