Hi Everybody,
Been having a hard time lately getting a TCP Source (Client) packet to be received by a File sink. I have tried countless of ways just to lead me on a road of more confusion. Using GNURadio V3.9.5 on Ubuntu.
The main goal is to send a TCP Packet to be received by GNURadio's TCP Source (client) and have that packet be modulated into a GFSK then packaged into a 2.4GHz via the LimeSDR Tx then to be received by the LimeSDR Rx and then demodulated into a File sink to be read by a user.
Topology (GNURadio Blocks)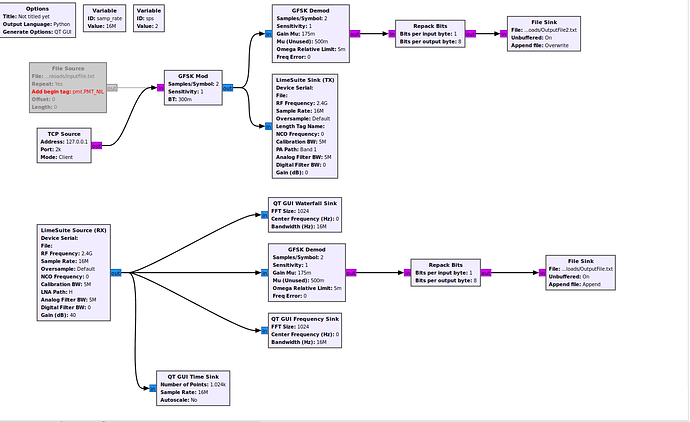 What I had found out thus far:
If I use a File Source instead of a TCP Source I can see the contents inside the File Source at the File Sink (Bottom) but with using a sample/symbol of > 4
The File sink with OutputFile2.txt (Top) can see the packets coming from TCP Source whereas the File sink with OutputFile.txt (Bottom) can't. Is there something going on with the transmission then? If it works without LimeSDR Tx/Rx what does that mean?
Any help would be appreciative as I am stuck and very new to this. I tried countless of times to search about anything on this topic but it seems theres a lack of examples when it comes to TCP + GFSK