So, I am not totally new to SDRs, however new to the LimeSDR. I have done as instructed by the sticky… and gone through Quick Start Guide - no luck. I have tried to google the forum and Lime community.
NOW I have to admit, this may be me… but I am on a Mac running OSX 10.14.3, verified that I am in fact plugged into a USB 3.0. AND there are the 2 LEDs S1 and S2 on. S2 is solid green, S1 is flashing green / red (normal from what I can tell… something to do with locked on 1 PLL).
I have installed from the repository… and tried the commands:
LimeUtil --find and LimeUtil --info.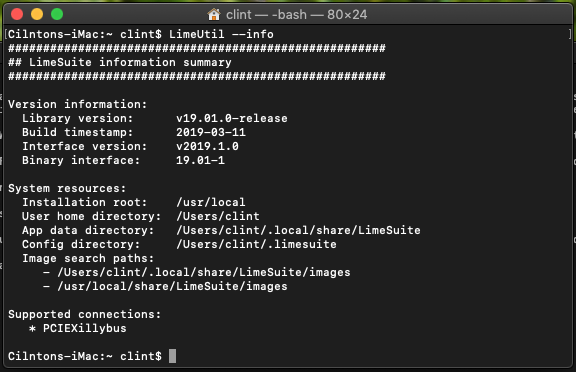 Also tried SoapySDRUtil --info and SoapySDRUtil --info with similar results. Right now I am not able to see it at all?
NOW **** I have a VM that I have access to, so I tried doing the whole thing in a Win 7 environment, with no luck. The only success that I had was the unit was recognized once I installed the USB drivers. BUT the software (QuickTest) could not find it.
I have tried with both USB plugged in, one plugged in, and the end result is the same. Not Found.
Appreciate any help getting this going, super excited and don't miss understand I enjoy solving these issues, just want to see it work before I go chasing issues

Thank you in advance for any help.