Hi all,
I'm using a LimeUSB in dual channel, at 55MS/s, central frequency 2450MHz, each channel shifted by +/- 23MHz to cover from 2400MHz to 2500MHz.
Sometimes, when I receive a powerful signal, I may see 0, 1 or more "mirrors" or "ghosts".
I have a few questions:
Where do the mirrors come from? Is that called aliasing or something else?
Is there a way to remove or limit those mirrors (while still covering the full 2400MHz band)?
Can you compute where they will be and their expected power, knowing where the real signal is?
Why do I sometimes have 0 mirror, 1 or 2, despite always having a strong signal?
For wider signals, the mirror sometimes corresponds to only a part of the signal. Is that to be expected?
Below the 1st channel is in black, the 2nd in red. The yellow/orange correspond to the min overtime to have an idea of the noise floor.
Here's an example with no mirror, even if the signal around 2465MHz is quite strong: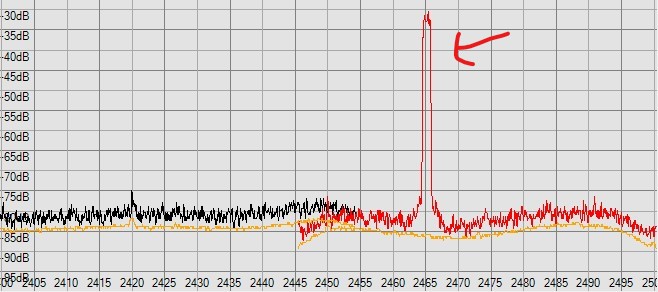 Here's with 1 mirror (the mirror at 2470 is symmetrical to 2430MHz around 2450MHz):
Here's with 2 mirrors (real signal at 2442MHz, symmetrical mirror at 2458MHz, other quite powerful mirror at 2497MHz = 2442+55):
Here's with a wider signal, ~20MHz. On the waterfall we can notice part of its mirror on the left:
Thanks.