Hi EveryOne,
I received my LimeSDR about 2 months ago and then I spend 300 hours with it to figure out how to made it works for 4G LTE, I try many thing srsLTE, openairinterface, open5gs, openLTE but nothing work. until last week I decide to made it more serious so I put my LimeSDR in custom alumunium case, with a silent fan, a decent swithching PSU (actually its a former PSU from internet modem (12v 3A)). and then I install ubuntu 18.04 in a small SSD drive (128GB).
then as usual (I do this a thousand time


) install soapySDR, install LimeSuite and last off course srsLTE.
after that I changed srsenb.conf file to work with band 7 FDD
what happend ?
for the first time I get Test PLMN 001-01 network on my Handphone.





I changed from endb 5o to 100 (I think its mean 20MHz Bandwith) without any single problem and I run it for 100 hours non stop and I still can see the network from at least 5 type of handphone.
so what I want to tell is old electronics stories about heat and power supply. dont take it lightly. I try my best to upload foto and screen shoot of my terminal after I can install screen capture application



just to be clear I start use LimeSDR without no knowledge of linux ( I spend 2 days try to install ubuntu in UEFI PC) so dont ask me technical question about ubuntu, Lime suite etc I just copy and paste person. but I try my best to help and report more with picture and measurement test.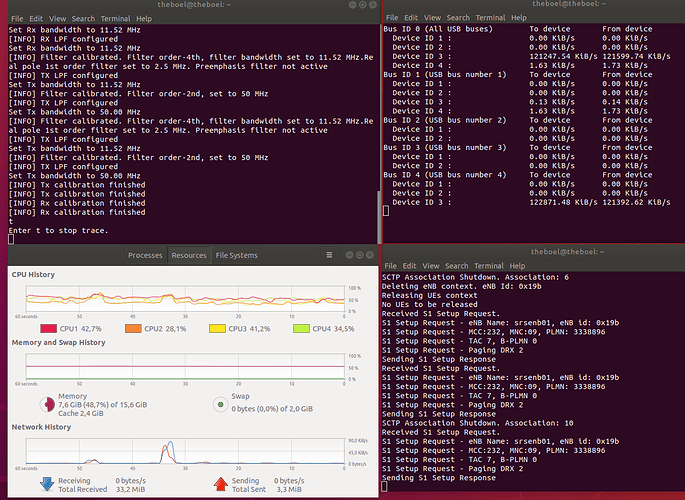 as You can see from above screenshot ubuntu 18.04 and srsLTE need 8GB RAM almost 40% from my CPU capacity (i5-2500K overclock to 4.6GHz). in 2x2 MIMO with n_prb 75, tm = 2, nof_ports = 2 the usb soar up to 122Mb.