Hello,
In order to modify the gateware in my LimeSDR mini board, my first attemp was to compile the project from https://github.com/myriadrf/LimeSDR-Mini_GW/tree/master/LimeSDR-Mini_lms7_trx, without changing anything and to program to the FPGA using Lime Suite GUI.
(I'm using Quartus Prime Lite Edition Version 15.1.0 and I also tried with 15.1.2)
But I ran into this error

I tried to open the file where the lms_ctr entity is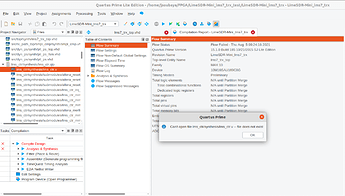 I checked the whole folder and the file lms_ctr.v is missing, but there is a lms_ctr.vhd.
So, my question is :
Can I replace lms_ctr.v by lms_ctr.vhd ?
Is it normal that I had this error or did I do something wrong ?
Thank you.