Hi,
After reading through related posts in this forum and running tests and validations with the anritsu spectrum analyzer and LimeSuite GUI to measure the various powers at different frequencies for the LM7002 board, I find that there needs to be a clarification as to what the maximum ouput power is for this board. I hope the administrators could shed some light in to this topic as I see that it has come up in many posts but none of the answers are definitive.
Issue: the LM7002 spec datasheet has on the first spec table that the max RF output power is 0 dBm but the advertised output power is +10 dBm for the board. Now, measuring signal at various frequencies for tx 1_1 high band I get anywhere from +17 dBm to +20 dBM depending on what tweaks I make inside LimeSuiteGUI.
the chart below summarizes my findings using a test ini file that one of the users in this forum provided me with, his name is karolis and has help a lot in many of this forum's posts. His output power line is the orange one. The blue is my first go try using his ini file and the light green is the one that closely matched his curve using a span of 20 MHz in my analyzer with different Resolution bandwidth depending on frequencies (under 1 GHz - 3 kHz, 1-2 GHz -> 10 kHz and finally over 2 GHz I used 30 kHz RBW):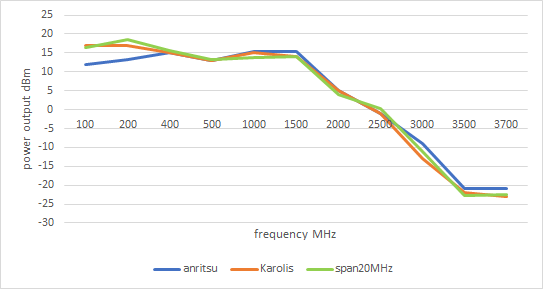 The problem that I have is that the max advertise output power is +10 dBm and without any amplifiers or antennas I am getting better than that. Moreover, in the following manual the LMS7002M board has max output power vs frequency which is clearly limited by the adverstised +10 dBm but it is VERY different than the measurements I get:
http://www.limemicro.com/wp-content/uploads/2015/08/LMS7002M_Measurements-v1_05.pdf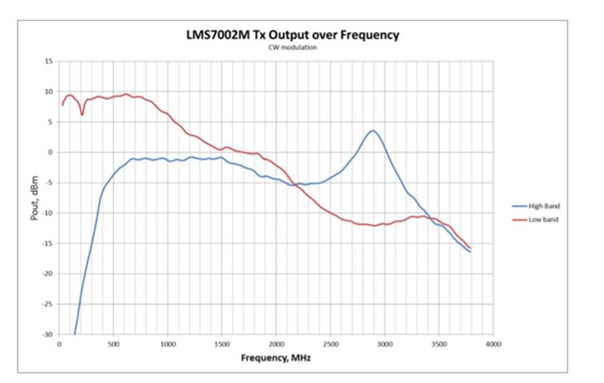 their chart has -30 dBm at 200 MHz while I have +17 dBm.
Does anyone have the INI file that they used to generate that chart? they mentioned in the manual they used a wcdma cw under the picture but on the setup on top of the picture they said they used the one tone cw signal. Also, does anyone have screenshots of the analyzer they used in those measurements to see what span, rbw, reference signal and input attenuation they used since these settings are important to reproduce the same results in other analyzers I was hoping the administrators can provide more insight as to how they obtained their chart for output power vs frequency.
Thanks for any clarification that may be provided!